What are eyelash extensions?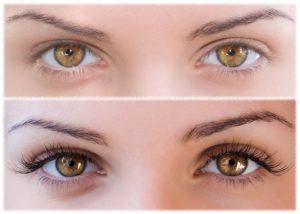 "Show long beautiful eyelashes" through our beauty expertise. Attaching the eyelash extensions 1mm ~ 1.5mm from the root of the natural lashes,
our technology uses only the finest quality of lashes (Sable mink) with your own custom design.
These extensions have been ranked in two of the finest mink and finest Sevres was processed thin special technique the tip of the extension material in our salon
We are attaching the lashes as close to the root of the natural lashes as possible. This helps the lashes last much longer.
Although there are individual differences the lashes will stay of for about 1.5 months.

Premium Sable
Four Curl Type: J, C, CC, and D
Four thickness types: 0.10, 0.15,0.18, 0.20
11 Length types: 4mm, 5mm, 6mm, 7mm, 8mm, 9mm, 10mm, 11mm, 12mm, 13mm, 14mm
We offer more than 198 of all 11 types of four length types × four thickness types and 10 different colors and four curl types.
Color, curl, thickness, length, from among the more than 198 total, and in consultation with the customer, we propose a design that matches the customers needs, then proceed with the treatment.
Request to customer who visit the salon:
To allow us to provide more beautiful eyelashes extensions, please observe the following when visiting our salon:
(This will affect the duration of the treatment and the extensions.)
※Please visit us without the use of mascara or eyelash curler on the day of your visit.
(If you proceed to use after coming to our salon, it will affect the duration of the extensions.)


※If you are wearing contact lenses, please bring your contact lens case. For safety reasons, we ask that you
remove your contact lenses before starting the treatment.
※Those who are pregnant, you will need the permission of the attending physician. Hospital name and attending physician name is required.
If you do not have permissioin, we will not be able to proceed with the treatment.